If you're one of the 40 million adults affected by anxiety in the U.S., you may be wondering what options are available to help you feel less anxious. While the first line of treatment that might come to mind is taking a prescription medication, these popular drugs often come with undesirable side effects like insomnia, headaches, and upset stomach.1 Many anti-anxiety drugs are also linked to dependence.2 For these reasons, many people choose to reduce their anxiety through alternative routes. Explore over the counter medications and supplements for anxiety as well as healthy lifestyle changes you can make to feel more balanced.
Non-Prescription Medication Options for Anxiety 
While you need a prescription for some popular anti-anxiety medications, there are several homeopathic and over-the-counter options available that do not require a prescription or even an official diagnosis. These options include herbal supplements like St. John's wort and homeopathic medication like Brillia. 
Ready for Brillia?
Ready for Brillia?
Enhances clarity & improves focus - prescription free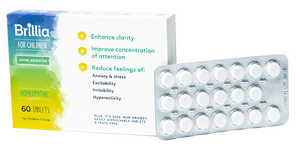 SHOP CHILDREN
"Brillia has greatly reduced stress on our family."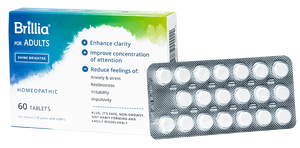 SHOP ADULTS
"Brillia for Adults worked just as it was promised."
Alternatives to Prescription Medications for Anxiety: 
St. John's wort (Nutritional supplement): This herbal remedy affects GABA transmitters in the brain, which are thought to promote a feeling of calm. While it is commonly used to ease depression, some studies

show the herb's efficacy in reducing symptoms of Generalized Anxiety Disorder.3 However, St. John's wort is not recommended for those taking selective serotonin reuptake inhibitors (SSRIs) like Lexapro, Prozac, or Zoloft.4   

Magnesium (Nutritional Supplement): Taking a magnesium supplement can also reduce anxiety and depression, according to studies

, with some users reporting

positive effects on sleep and memory.5,6 Some adverse effects of taking magnesium include flushing and hypotension, and the supplement should not be taken by those with diabetes, intestinal disease, heart disease, or kidney disease.7

5-HTP (Nutritional Supplement): 5-Hydroxytryptophan (5-HTP) is an amino acid that helps the body produce the neurotransmitter serotonin. Low serotonin levels are linked to anxiety and depression. In a study

of fibromyalgia patients, 5-HTP had a "significant" effect on improving anxiety and fatigue.8 Adverse reactions include nausea, heartburn, gas, and feelings of fullness.9 Like St. John's wort, 5-HTP should not be taken by those taking SSRIs because too much serotonin may lead to a dangerous condition known as serotonin syndrome. 
Another option is taking Brillia, a non-prescription medication that can be used in conjunction with supplements or on its own. Specifically targeted to reduce anxiety, stress, restlessness, and irritability while improving focus and clarity, Brillia is a homeopathic remedy that uses antibodies to the S100B protein as its active ingredient. The S100B protein is an important regulator of various different intracellular and extracellular brain processes and is responsible for producing symptoms of anxiety and depression when it is out of balance in the body. By binding to the S100B protein and regulating its activity (without altering it), Brillia prevents symptoms of anxiety from manifesting without any harmful side effects. Unlike prescription drugs and some of the supplements mentioned above, Brillia has no contraindications with any medications, it can be added to your regimen for support with symptoms your other medications do not address, it can be used instead of upping the dose of prescription medications you are taking, or it can potentially replace the prescription medications you are taking if you are not happy with their side effects. Brillia can also be used by children as well as adults. Brillia relies on a holistic approach known as the 5 Pillars, which combines behavioral science with antibody science to produce the best results for users. Following a healthy diet, getting adequate sleep, limiting screen time, and practicing mindfulness all work to maximize the medication's results. 
Additional Ways to Relieve Anxiety 
As the 5 Pillars suggests, adjusting one's lifestyle choices can also make a massive impact on anxiety levels. Addressing anxiety from multiple angles provides a more comprehensive approach with whole-body benefits. 
Additional Ways to Relieve Anxiety:
Follow a healthy diet: Diets high in sugar and processed foods may exacerbate symptoms of anxiety. To reduce anxiety, eat a

well-balanced diet

of mainly fruits, vegetables, lean meats, and healthy fats. Certain spices like

turmeric

may also help with anxiety as well as using herbal supplements like the ones mentioned above.

Exercise: You may already know how good exercise is for your body, but it's also crucial for your mental health. Numerous studies

indicate that exercise is associated with reduced anxiety in clinical settings.10 

Get enough sleep: The brain depends on the restorative

power of sleep

to regulate your mood. According to the Mayo Clinic

, adults need seven or eight hours per night.11 

Limit screen time: Studies

show that

spending less than two hours per day of recreational

screen time

was linked to higher levels of life satisfaction and optimism, as well as lower levels of anxiety.12

Spend time in nature: Getting outdoors can help to reduce stress and anxiety. Studies

show that

spending time in nature

doesn't just make us happier; it also has the potential to improve memory and help us feel more connected.13 

Practice meditation: Numerous studies

have shown that

mindfulness meditation

may ease anxiety and stress. This may include

mindful breathing

, yoga, tai chi, and other

relaxation techniques

.14

Try talk therapy: Talk therapy is another option for reducing anxiety. One effective type of therapy is cognitive-behavioral therapy (CBT), in which therapists help patients learn to identify and manage the factors that contribute to their anxiety.
Combining Non-Prescription Medication with Talk Therapy
Combining talk therapy with non-prescription medication like Brillia provides a multi-faceted approach to addressing anxiety. It may take multiple sessions to experience a breakthrough in therapy or some may find that therapy even brings up more anxiety at the beginning. Using Brillia in combination with talk therapy helps to promote a stable mood in a safe and impactful way without making you feel drowsy or masking your personality. By taking this approach, you can ensure you're fully supported in tackling your anxiety and feeling like yourself again. Learn more about how Brillia works. 
Erica Garza is an author and essayist from Los Angeles. She holds an MFA from Columbia University and a certificate in Narrative Therapy. Her writing has appeared in TIME, Health, Glamour, Good Housekeeping, Women's Health, and VICE.
---
References: 1https://www.health.harvard.edu/mind-and-mood/side-effects-of-anxiety-medications, 2https://www.camh.ca/en/health-info/mental-illness-and-addiction-index/anti-anxiety-medications-benzodiazepines, 3https://www.researchgate.net/publication/9071603_St_John's_Wort_in_Generalized_Anxiety_Disorder_Three_More_Case_Reports, 4https://www.aafp.org/afp/1998/0301/p950.html, 5https://journals.plos.org/plosone/article?id=10.1371/journal.pone.0180067, 6https://www.psychologytoday.com/us/blog/evolutionary-psychiatry/201106/magnesium-and-the-brain-the-original-chill-pill, 7https://www.ncbi.nlm.nih.gov/books/NBK519036/, 8https://pubmed.ncbi.nlm.nih.gov/1521674/, 9https://www.mountsinai.org/health-library/supplement/5-hydroxytryptophan-5-htp, 10https://www.ncbi.nlm.nih.gov/pmc/articles/PMC3632802/, 11https://www.mayoclinic.org/healthy-lifestyle/adult-health/expert-answers/how-many-hours-of-sleep-are-enough/faq-20057898, 12https://www.sciencedaily.com/releases/2020/11/201102124849.htm, 13https://www.apa.org/monitor/2020/04/nurtured-nature, 14https://www.health.harvard.edu/blog/mindfulness-meditation-may-ease-anxiety-mental-stress-201401086967