Brillia for children ages 5 - 6
See how Brillia can help control
symptoms of anxiety and inattention (ADHD) at various ages.
Anxiety and inattention in 5 to 6-year-olds.
Reaching age 5 or 6 can be a time of huge transitions for kids (and their parents!). One obvious milestone is starting kindergarten, but there are other just-as-noteworthy events like dropping naps, losing teeth, and learning how to be more independent. While these years can be exciting, this time in life can also bring anxiety as your child adjusts to unfamiliar surroundings. Spending more time away from Mom & Dad, anxiety and inattention (ADHD) can affect some kids more frequently and with more intensity, negatively impacting their schoolwork and relationships. Brillia is clinically proven to reduce these anxious feelings for kindergartners without the harsh chemicals in prescription anxiety medications.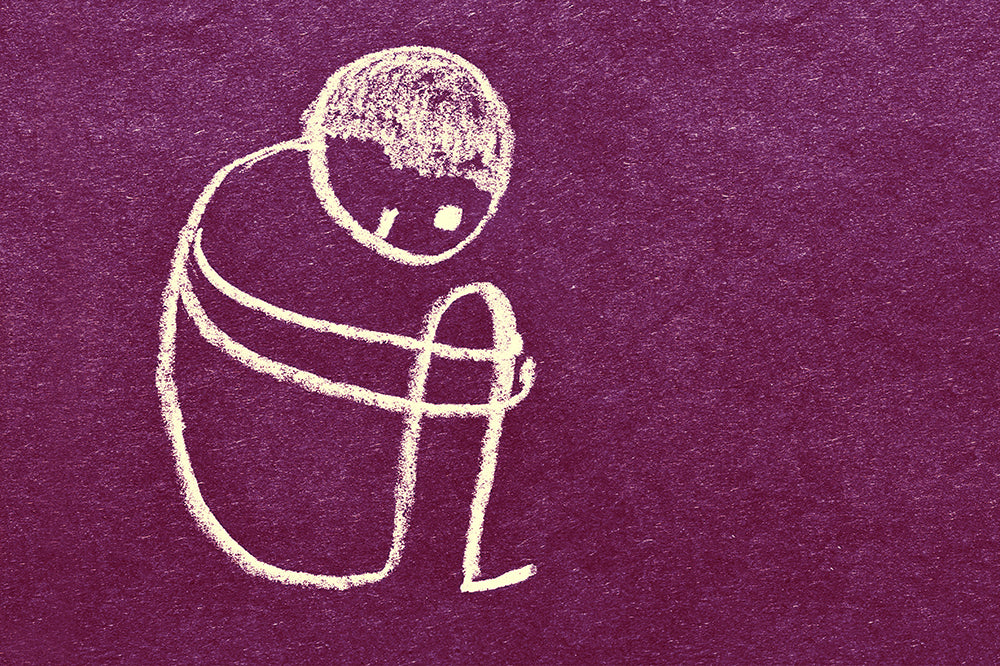 Anxiety signs and symptoms in 5 to 6-year-olds:
Frequent wake-ups,
Insisting on sleeping with parent
Fear of dark places or bad guys
Fear of bugs, animals, monsters
Fear of what's under the bed
Loss of appetite, stomach aches
Difficulty concentrating
Constantly worrying
Feeling teary or clingy
Not wanting to go to school
Having a short fuse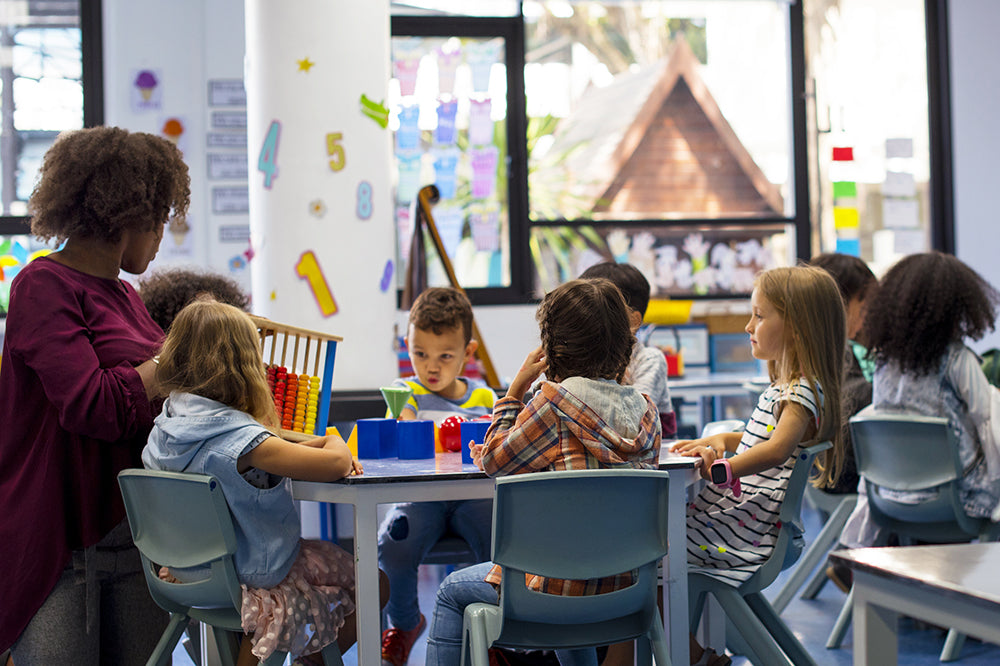 Inattention (ADHD) signs and symptoms in 5 to 6-year-olds:
Trouble focusing on daily tasks
Difficulty concentating at play
Distracted when spoken to
Can't keep track of belongings
Fidgeting, squirming, tapping
Unable to sit still
Excessive talking, interrupting
Always "on the go"
Has trouble waiting their turn
Struggles with sustained mental effort
Verified by science, clinical studies and approved by the toughest critics you'll find anywhere…moms 🙂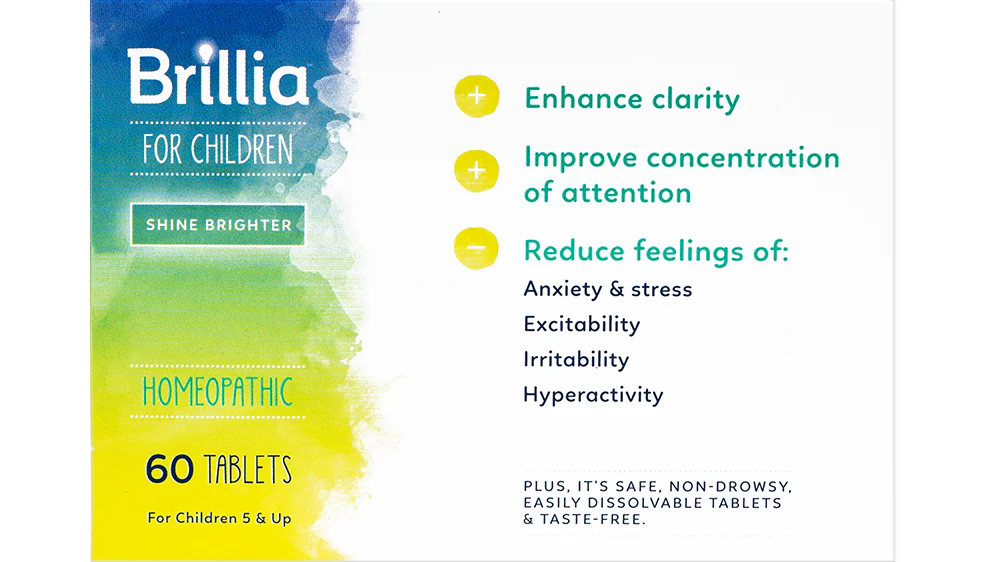 Save up to 35% Order a 3-month supply with free shipping and a 100% money back guarantee.
Brillia is a gentle product but powerful enough to provide results with consistency, so we recommend to give it the full 3 months to see results. To give you the peace of mind to commit to the 3-month program, we have the highest discounts and free shipping for these bundles and we offer a 100% money back guarantee.
Are anxiety and inattention (ADHD) normal in 5 to 6-year-olds?

Some level of anxiety and stress is age-appropriate and expected, especially as children start school and experience more independence, but it's important that parents keep an eye out for signs and symptoms of more serious issues. Anxiety may also commonly co-occur alongside your child's ADHD or inattention symptoms. There are many ways you can help your child, from establishing new routines at home to empowering them with mindfulness practices appropriate for their young age. In fact, the younger your child explores mindfulness practices, the more likely they are to use them throughout their lives. This includes simple breathing exercises, guided sleep meditations, and more.
No prescription required
No harsh synthetic chemicals
Non habit-forming
Non-drowsy
No harmful side effects
No contraindications
Easy-dissolve tablets
100% money back guarantee  
Learn
Let's answer any questions
What are homeopathic alternatives for anxiety or inattention (ADHD) in 5 and 6-year-olds?

Brillia relies on a holistic approach to reducing anxiety and ADHD symptoms, combining homeopathic medication with healthy lifestyle habits. A non-prescription medication that helps to reduce symptoms of anxiety, stress, restlessness, irritability, and hyperactivity without harsh, synthetic chemicals, Brillia is safe for children as young as five and has no harmful side effects or contraindications with other medications. The active ingredient in Brillia consists of antibodies to the brain-specific S100 protein (S100B), an important regulator of many different intracellular and extracellular brain processes, including mood. Gently and impactfully, Brillia normalizes the processes related to the S100B protein and targets symptoms at their source in children as young as five years old. The clinically proven results include more focus and less worry for children (and parents!).
What are holistic practices for anxiety or ADHD in 5 and 6-year-olds?

Brillia works best in combination with the lifestyle habits outlined in our 5-Pillar methodology. These habits include following a healthy diet, getting adequate sleep, controlling screen time, and practicing mindfulness and relaxation techniques. By pairing Brillia with modified behavior, you are addressing your child's anxiety from multiple angles, easing symptoms at their source while commiting to whole-body health.
What Brillia dosage is recommended for 5 and 6-year-olds?

Brillia's dosage for children depends on the severity of their symptoms as you would rate them: moderate or severe. If you are not sure, we suggest you start with the moderate dosage, which means one pill in the morning, one mid-day and one in the evening at least 2 hours before bedtime. Moderate and severe require 3 doses spread out as evenly as possible throughout the day. We know that administering these dosages can be a challenge if your child is in school. However, it is still recommended to take 3 doses even if two of them might end up being a little closer together (instead of doubling up on a dose). Finding out your child has anxiety or ADHD may be worrying for parents, but your child will likely find relief knowing that there is a name for what they're feeling and ways to address the specific challenges they are facing. 
How can I help my 5 or 6-year-old with anxiety or inattention (ADHD)?

If you suspect your five or six-year-old child is struggling with anxiety or ADHD, it is important that you address it right away so they can get the help they need. If your child is experiencing separation anxiety, you might seek out some preliminary volunteer opportunities at school to help them transition easier. Establishing morning and bedtime routines to get them accustomed to their new busy schedule can also be a big help. Connecting with your child's teacher and other classroom parents is another way to show your child you're still present in their new school community. Another step you can take is taking your child to see a professional therapist, especially if you notice your child's symptoms are worsening and interfering with their daily life. It's also important that you teach your child not to run away or avoid the stressors that trigger anxiety or uncomfortable feelings. Learning to manage their emotions, even in scary situations, will be far more beneficial in the long run than shielding them from every threat. 
How is Brillia clinically-proven for children?

Brillia's active ingredients are scientifically formulated to reduce anxiety and improve attention and focus as backed by various clinical trials and studies testing Brillia's safety and efficacy. These studies have proven that children taking Brillia had a significant decrease in the severity of their symptoms compared to placebo and no statistically relevant adverse effects. With 10 years of success in Europe, Brillia has provided substantive documentation on this clinical data to the FDA to support the claims the product makes while abiding by all FDA standards and regulations. 
We recommend getting started with a 3-month supply moderate dosage, that includes free shipping and our 100% money back guarantee
Applies to first-time buyers only within 120 days from first date of purchase, limited to one 3-month bundle or three 1-month supplies per product per child or adult in the same household. FedEx overnight shipping not refundable. Subscription orders excluded. Return Policy.
- click or tap to close -