For kids dealing with anxiety, tools and techniques that promote mindfulness and a state of calm can be life-changing. Unlike previous generations, we live in a technological age that is—for better or worse—flooded with smartphones, tablets, and a wide variety of apps for these devices. Fortunately, there are now several apps designed to help kids find balance and focus, reach a calm state of mind and reduce their anxiety. Below are five apps that can help kids reduce anxiety and promote mindfulness.
1.Colorfy
Both kids and adults can benefit from coloring, which is not only fun but also relieves stress and anxiety. Colorfy is just one of numerous coloring apps that can be used by kids. For a low cost, this app provides hundreds of coloring pages, color palettes, and effects. An app of this type allows kids to harness their creativity while also focusing their minds and replacing anxiety with a fun and calming activity.
2. Stop, Breathe & Think Kids
Stop, Breathe & Think Kids is a low cost, subscription-based app with fun activities that can help kids be mindful of their emotions and learn how to deal with them. It is also designed to ease kids into bed and includes games and missions that relieve stress, with a focus on handling one's feelings at the moment. Stickers reward progress and keep kids engaged, motivating them to continue practicing techniques to calm their anxiety and reduce stress.
Enhances clarity & improves focus - prescription free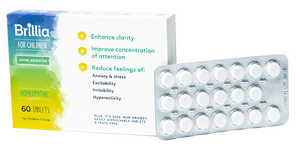 SHOP CHILDREN
"Brillia has greatly reduced stress on our family."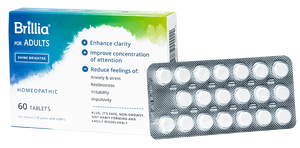 SHOP ADULTS
"Brillia for Adults worked just as it was promised."
3. Mindful Powers
Mindful Powers, or the paid version Mindful Powers Edu, is a creative approach to helping kids learn to be mindful of their feelings and thoughts and how to deal with them through play and mindfulness sessions while staying focused on their tasks. The app engages kids and helps them focus through timed tasks while promoting wellness through calming, voice-guided sessions, helping kids productively handle life's many sources of stress and anxiety.
4. Relax Meditation
Relax Meditation is a subscription-based app with new content each month and a variety of topics to choose from, such as building self-esteem. This app is designed to promote wellness and balance, ease the mind, and find happiness in any situation through meditation. The app can also help kids better understand their inner self and deal with emotions, calm and focus the mind, find happiness and see the positive side of things during difficult times.
5. Wellbeyond Meditation for Kids
Wellbeyond Meditation for Kids is a fun meditation app designed to teach meditation to kids, which can help them handle their feelings and emotions better, focus their mind on current tasks, and learn to stay or return to a place of peace in difficult situations. The app also teaches meditation in kindness, both to oneself and to others. These techniques to calm, focus and balance a kid's life can be part of a lifelong practice of maintaining inner balance and responding in a healthy way to sources of anxiety and stress.

These are just a few of the wide range of apps available to help kids find inner peace and balance, understand and better handle their emotions and feelings, focus their minds on tasks that must be completed and calm their minds when they are in a state of anxiety or stress. These apps can be useful at any time of day, but it's important to be mindful of the brightness of the device's screen. Bright light in the evening before bedtime—especially blue light emitted from electronic screens—can disrupt the R.E.M. sleep cycle and prevent children from getting to sleep. If an app is not specifically designed to help kids sleep, it's better to avoid use before bedtime.