Depending on where you live, your kids may be back in school in-person, remotely, or with a hybrid schedule. They may even have started in-person school and then switched back to a 100% remote schedule. Wherever they are in the process, one thing is for sure: This school year will be unlike any other they have experienced so far. Although some kids are excited and eager to go back to school full time, others may be uncomfortable with the idea or outright scared. Your children need support, no matter how they're feeling. Even if you're conflicted yourself, there are several things you can do to ease their anxieties and smooth the transition back to school.
Ask Them How They Are Feeling About Returning (or Returning With Distance Learning)
You can only support someone after you understand their point of view. This is as true for children as it is for adults. Although you undoubtedly know your children better than their friends, teachers, and grandparents do, you still need to take time to listen to them. Just being heard may go a long way toward reassuring them that they are safe, loved, and supported. You may even be surprised by some of the things they're worried about, like how to manage wearing a mask and also eating lunch. When you know what their concerns are, you can support each of your children however they need it most. For many, even just being able to be vocal about their feelings can be somewhat therapeutic.
Reach Out to Other Parents for Advice & Support
Other parents may be just as overwhelmed as you are, but, chances are, they have also been brainstorming ideas. Putting your heads together may lead you to some creative solutions about transportation, planning for remote schooling, having multiple kids home on multiple screens all day, and so on. Even if you don't come up with any groundbreaking ideas, just having someone who understands your frustrations is priceless. You'll all walk away feeling understood, knowing you have allies in this new situation.
As you share stories about your children, what questions they have, and what they're going through, you'll also be building that support network for your children. When your child worries about masks, for example, or about not knowing how to use a classroom app, you'll be able to say, "You know, so-and-so's mom said that he's been saying the same thing. This is a whole new situation for everyone, and we're all learning together. It will get easier."
Prepare With Masks & Additional Safety Precautions
Maks only protect when they're clean, so if your children attend school in person, try to have a different mask for each day of the week. If that's impractical, at least have a few so they'll have one to wear, an extra in their bags, and one or two in the wash. It might be a good idea to have one mask for the morning and a different one (tucked into a bag to make sure it stays clean) for after lunch.
Enhances clarity & improves focus - prescription free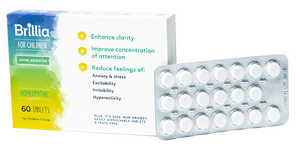 SHOP CHILDREN
"Brillia has greatly reduced stress on our family."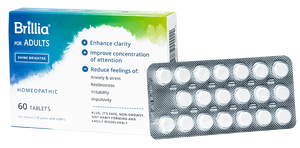 SHOP ADULTS
"Brillia for Adults worked just as it was promised."
If your kids struggle with the mask idea, be sure they know how it works and why it's essential.
Make Time for Outdoor Activity
There are a lot of extra steps to keeping a schoolroom safe and healthy these days. For example, classes may need to take turns using the bathroom in small groups, and lunches may be staggered. All of the extra cleaning, sanitizing, and social distancing may cut into the usual outdoor time. To make up for this, be sure your kids get extra time to play outside or sit in nature outside of school hours.
Remote learners can easily get caught up in all of their video calls and app-based learning sessions. Set up a schedule with breaks written in at regular intervals, and make it easy for them to get outdoors during at least a couple of breaks each day. If it gets cold where you live, have coats, hats, and mittens ready to go at the beginning of each day. If they need sunscreen, bug spray, or anything else to help them enjoy their outside time, have all of that ready by the door.
Once you've implemented all these suggestions, you may find that your children need a little more support to help them calm down, focus, and relax. Browse through our articles on Brillia for other holistic ways to help reduce anxiety with better lifestyle habits that include improving nutrition and sleep, learning child-friendly mindfulness/relaxation techniques and controlling screen time. And if your child or you need any extra support, there is a non-prescription Brillia tablet that is easy-dissolve, gentle and impactful to consider. You can learn about why and how Brillia works. It's a fascinating approach to reducing these symptoms without harmful side effects.