Good, nutritious food is essential to every child's development and growth. Their bodies are growing at a rapid pace and their organs need the right nutrients to function properly. But more than just physical growth and development, poor nutrition also leads to lowered cognitive function. One study showed that malnourished children are more likely to experience social isolation and underperform academically. Despite all that we know, most food created for children is filled with the ingredient that causes so many negative health effects, it could be called the enemy of healthy eating: sugar.
Our children need good food that will help them focus in school, give them energy to play with their friends and help them grow up well. And this doesn't mean they need to sacrifice the joy of experiencing great tasting food. On the contrary. When you remove sugar from your child's diet, you'll open up a world of tasty foods that they will carry into adulthood.
If you're struggling to find healthy snacks that won't put your kids in a sugar slump, we're here to help. Below is a list of our most favorite sugar-free snack options.
Almond Butter
Almond butter is the best. It's healthy, it's got a natural sweetness to it and you can often find it in convenient travel packs. Couple a pack of Justin's Almond Butter with a handful of celery sticks and you've got the perfect on-the-go snack that won't spike your child's glucose levels.
Popcorn
You can always count on popcorn to be quick, easy and sugar-free. And there are so many choices! Most grocery stores offer a variety of popcorn selections—from small bags meant for lunchboxes to big bags the entire family can share during movie night. Just make sure you're reading the label as some popcorn is more sugary than others (especially when you start adding things like caramel or butter). Or try preparing it the old-school way: add a few tablespoons of oil to a pan that has a lid, layer a coat of kernels, cover the lid, and reduce to medium heat. You will hear the popcorn popping and once the popping stops, it's ready to pour into a bowl and add a little salt! And voila! This process may be what entice the kids to ask for popcorn instead of other less healthy snacks!
Fruit
Fruit naturally contains sugar the way it was intended for humans—wrapped in fiber and vitamins. If you want to treat your kids to something sweet without risking heaps of added sugar, just pick their favorite fruit. Blueberries, for example, pack a healthy antioxidant punch. And because they're especially sweet, they work great as a dessert option.
Guacamole
Who doesn't love an avocado? They're packed with nutrients, easy to work with, and they're delicious. Give your kids a healthy, hearty bowl of guacamole to dig into after school rather than reaching for a sugar-filled snack. Their minds and stomachs will thank you.
Enhances clarity & improves focus - prescription free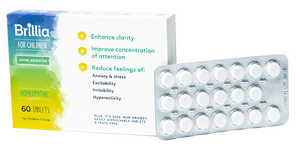 SHOP CHILDREN
"Brillia has greatly reduced stress on our family."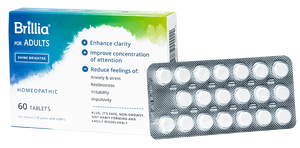 SHOP ADULTS
"Brillia for Adults worked just as it was promised."
Hummus
Speaking of delicious dips, hummus is also an excellent alternative to a sugary snack. Like almond butter, hummus pairs well with veggies. You can also pick up some healthy pita chips for your kids to dip. No matter which you choose, you'll feel better knowing they're consuming far less sugar.
Mini Babybel Cheese Wheels
Dairy can be a toss-up for kids. Some just can't process it very well. But if your child is a cheese fan, and it doesn't make them feel bad, we can't recommend these Babybel cheese wheels highly enough. They're the perfect snack size and they travel well between activities.
Pistachios
Like popcorn and fruit, pistachios are an easy unprocessed snack option that also happen to be delicious. They have a slight natural sweetness to them that you won't find in other nuts, so they work for the days your kids crave a treat. We suggest keeping a bag in the car and in your cupboard so you always have them on hand.
Black Bean Chips
Black bean chips may sound a little strange, but they are an excellent alternative to regular chips. They have much less sugar than tortilla chips (which come from corn) and potato chips, but taste just as good. Small replacements like this will always add up throughout the day.
Kale Chips
Kale might not be the first thing that comes to mind when you think of a tasty snack but trust us, kale chips are incredible. They're also super simple to make at home! Next snack time, instead of reaching for a processed snack, try taking a moment to bake your own kale chips with your kids. You can bond over a shared activity and make delicious, healthy snacks all at once.
There are hundreds more healthy alternatives to sugary snacks. The fun part is discovering them together with your kids. Take the time to explain why you're choosing sugar-free options and how it will help them grow. The more they understand, the better they will be at making those choices for themselves!