One of the most challenging and stressful aspects of being a "do it all" parent is providing a well-balanced diet, especially with limited time and a family full of sweet tooths. Combining the tastiest sugar alternatives, these homemade snacks provide the proper nutrition a child needs from preschool to beyond. And the best part, they're quick to fix up!
1. Oatmeal Peanut Butter Energy Bites
The ideal grab-and-go snack, these energy bites are made of whole grain oats, flaxseed, and peanut butter. They contain both rolled and steel cut oats, which provide a solid dose of fiber and protein, while flaxseeds offer omega-3. Whether you use peanut or almond butter, this tasty adhesive also provides good protein. If your child has a nut allergy, make sure to use a non-seed based butter.
2. No-Bake Granola Bites
High in protein and fiber, these no-bake granola bites are simply made from rolled oats and raisins. Not only is this quick, healthy snack a favorite among kids and adults, but also easy to preserve in the freezer for up to four months.
3. Applesauce Oat Muffins
Looking for a new way to spruce up applesauce? Add some old-fashioned oats for protein and fiber with whole grain flour and you've got a fantastic, healthy snack that can be prepared in just minutes. If you have leftovers, these muffins can also be frozen for later enjoyment.
4. Strawberry Banana Protein Smoothie
A protein smoothie is a classic on-the-go snack that takes minimal effort. It's packed full of strawberries, bananas, almonds, cashews, and pea protein to give your child all the nutrients they need with great taste. By the way, adults love it too!
5. Banana Bran Muffins
Packed with potassium and other minerals, these muffins are perfect for on-the-go and can be served as a side for breakfast, lunch, or dinner.
Enhances clarity & improves focus - prescription free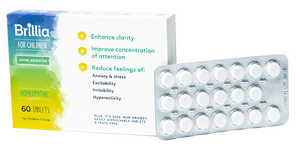 SHOP CHILDREN
"Brillia has greatly reduced stress on our family."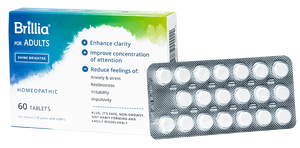 SHOP ADULTS
"Brillia for Adults worked just as it was promised."
6. Fruit & Nuts Snack Bars
For a fruity spin on nutrition, these snack bars combine your favorite fruits with a variety of nuts in an easy-to-hold structure.
7. Apple Peanut Butter Sandwiches
Apples, peanut butter, granola, oh my!  Add your own raisins, craisins, nuts, or coconut to this sweet breadless sandwich for a fiber- and protein-packed snack.
8. Fruit Overnight Oats
If you haven't experienced overnight oats then you're missing out. This fluffy snack can be made in less than 5 minutes and can last up to three days in the refrigerator. Just add your kids' favorite fruits, rolled oats for fiber, milk for calcium, nuts for protein, and whatever else you can stuff in a mason jar, leave it overnight, and shazam!
9. Fruit & Cheese Skewers
Most kids shy away from cheese; but nestled between a few of their favorite fruits on a skewer, the cheese becomes a delicious way to sneak in some calcium. Add yogurt or a honey dip to this delectable snack and even the grown-ups will want a sample.
10. Popcorn Trail Mix
For most people, buttery popcorn is the last thing we want to give our kids, but this mixture of popcorn (and fat-free butter) with trail mix and cinnamon gives a whole new meaning to movie night snacking.