"...the more affectionate a father is with his child, the higher their self-esteem as adults"
↓
share
All parents play a crucial role in the lives of their children, serving as their primary role model, their support system, and their guide. But fathers play a unique role when it comes to their child's emotional growth, especially when it comes to their positive self-regard.1
A recent study shows that the more affectionate a father is with his child, the higher their self-esteem as adults.2 And related studies show that children who experienced greater father-child physical play, toy play, and active play (like sports games and nature activities) tended to have better self-regulation and social and emotional well-being.3
To make father-child bonding time more fun, here are some ideas of activities that dads can enjoy as much as their kids, from having a game day to visiting a museum. After all, the best family time is when everyone is entertained.
1. Have a Game Day
From board games to sports games, having a game day makes room for play as well as some friendly competitiveness. Even a simple game of catch can present a significant bonding experience, allowing kids to open up and share their thoughts with Dad, receive positive reinforcement, and form new memories of togetherness. Don't have any board games or sporting supplies? Here are some classic ideas for game day that don't involve props: charades, hide-and-seek, I Spy, and Simon Says.
2. Play Dress Up
Dad's imagination and sense of style get to run wild with a game of dress up. More than simply wearing a silly costume, dress up requires kids to role play and practice different emotions. Even more, research shows that kids who engaged in role play had more empathy and were better skilled in judging how other people might feel than those who didn't.4
3. Have Story Time
Story time is a key learning opportunity for young kids as it teaches them new words, modes of communication, and different perspectives. Story time is also a great time for kids to practice their listening skills and can be a settling, relaxing activity because it requires them to sit still for a while. But you don't have to venture off to the library to have story time. Even if your kids have read all the books on their bookshelf, picking up some old favorites can be just as enjoyable. 
Ready for Brillia?
Ready for Brillia?
Enhances clarity & improves focus - prescription free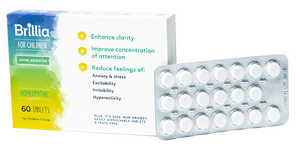 SHOP CHILDREN
"Brillia has greatly reduced stress on our family."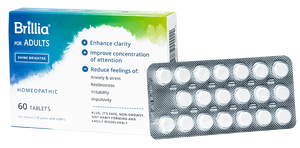 SHOP ADULTS
"Brillia for Adults worked just as it was promised."
4. Arts & Crafts
From making snow with shaving cream and baking soda to constructing a backyard maze out of cardboard, arts and crafts with the kids doesn't have to require a trip to the local art store.5 Find things around the house that you can transform into an exciting new creation.
5. Play Video Games
Video games aren't just for the young members of the family, but also the young at heart. From Mario Kart to Jackbox Party Pack, there are so many options everyone can enjoy. Just be sure not to overdo it. Too much screen time can make the whole family grumpy and interfere with sleep if you play too late.  
6. Serve Breakfast in Bed
Having breakfast in bed seems like an indulgence that only benefits Dad, but kids love participating in mealtime, especially if it involves something novel like eating in bed. In fact, research shows that cooking with kids can encourage basic skills like counting, boost confidence, and even encourage an adventurous palate.6
7. Go Camping
You can be as adventurous as you like on a family camping trip–picking a spot in the woods or maybe just your backyard to pitch a tent, roast marshmallows, and gaze at the stars in the sky. If you plan to visit a campsite during the summer or other prime vacation times, just be sure to call ahead to reserve a spot.
8. Visit a Museum
From historical artifacts to fine art, visiting a museum will entice any member of the family, especially if you plan some activities while you're there. For instance, bring along a sketchbook and see if you can recreate what you see. Play "I Spy" by choosing a color or object and finding them in different exhibits. Find out if photography is allowed and let your kid document their favorite things. 
9. Family Beach Day
When the weather is nice, who doesn't love a trip to the beach? If you live near the ocean, plan a beach day with Dad because water and sand are all you need for endless fun. Even if the kids are too young to swim, simply splashing their feet and collecting seashells will keep them entertained. 
10. Have a BBQ
Fire up the grill, serve everybody's favorite food, and let the kids think up some games to play. Whether you hang out in the backyard or the local park, it doesn't matter where you hold your BBQ as long as you're together.   
Find more parenting resources and ideas for kid-friendly activities that support their well-being at the Brillia(nce) Resource Center.
A whole bunch of support right in your inbox.
References: 1https://www.youtube.com/watch?v=jE5JG5MrgSg, 2https://greatergood.berkeley.edu/article/item/how_a_fathers_love_helps_kids_thrive_in_life, 3https://www.sciencedirect.com/science/article/abs/pii/S0273229720300307, 4https://www.parenting.com/activities/kids/why-kids-love-to-play-dress-up/, 5https://playtivities.com/how-to-make-snow/, 6https://kidshealth.org/en/parents/cooking-preschool.html